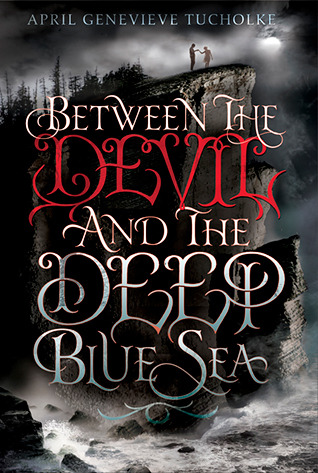 Titel: Between the Devil and the Deep Blue Sea
Författare: April Genevieve Tucholke
Serie: Between #1
Språk: Engelska
Antal sidor: 360
Utgiven: Augusti 2013
You stop fearing the devil when you're holding his hand…

Nothing much exciting rolls through Violet White's sleepy, seaside town… until River West comes along. River rents the guest house behind Violet's crumbling estate, and as eerie, grim things start to happen, Violet begins to wonder about the boy living in her backyard.

Is River just a crooked-smiling liar with pretty eyes and a mysterious past? Or could he be something more?
Violet's grandmother always warned her about the Devil, but she never said he could be a dark-haired boy who takes naps in the sun, who likes coffee, who kisses you in a cemetery... who makes you want to kiss back. Violet's already so knee-deep in love, she can't see straight. And that's just how River likes it.
Kommentarer:
Jag har varit lite halvsugen på den här boken ett tag och har velat fram och tillbaka men när de väl tog in den på bibblan hade jag inget att förlora utan då var det bara att låna hem den! Tur var väl det för jag gillande den riktigt mycket.
Det jag gillar mest med den här boken är känslan. Det är en varm sommar, historien utspelar sig i en liten by och jag får den där härliga amerikanska söder känslan. Stora övergivna gods och anrika familjer med en gediget familjeträd som självklart innehåller en och annan härlig hemlighet. För min del är det mycket svårt att motstå en sån här bok. Släng sedan in en del obehagliga element och mystiska saker så passar det mig alldeles utmärkt.
Inte för att historierna påminner det minsta om varandra men känslan är lite den samma som i Beautiful Creatures. Kanske inte riktigt lika mycket söderkänsla men jag tycker de har samma känsla. Kan vara jag som hittar på nu men jag gillar dem båda i alla fall.
Vad ska man annars säga om karaktärerna. Det finns mycket att gilla men även mycket att irritera sig på. Våran huvudkaraktär Violet är naiv, alldeles för snäll och aning för godhjärtad för sitt eget bästa. Hon blir såklart galet kär i en mystisk främling som bara dyker upp helt plötsligt och är så manipulativ som det bara går självklart har en massa hemligheter som han inte kan berätta om.
Violets
bror är en riktigt mansgris och hennes granne är den typiska tjejen som bara flörtar med allt som rör sig. Låter som en riktigt succé va? Men det är just var det är. Jag sväljer allt med hull och hår. Jag älskar de här fyra karaktärerna just för att de är så överdrivna och precis så stereotypiska som YA-karaktärer kan va. Men det är inte allt. Läser du hela boken kommer du att förstå att det finns mer att upptäcka under det första lagret.
Glöm nu inte bort att detta inte är en helt vanlig kärlekshistoria, för då hade jag inte läst den. Jag ska inte spoila er med att säga vad som händer men det finns definitivt obehagliga moment i den här historien och ett inslag av paranormal som gör det till en mycket intressantare historia.
Betyg 7/10
Andra böcker i serien:
1. Between the Devil and the Deep Blue Sea
2. Between the Spark and the Burn
Boken finns att köpa på
Adlibris
,
Bokus
och
CDON
.