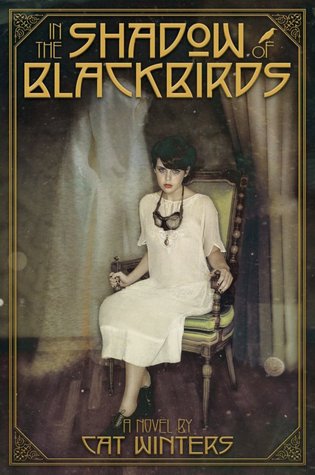 Titel: In the Shadow of Blackbirds
Författare: Cat Winters
Språk:

Engelska
Antal sidor: 387
Utgiven: April 2013

Beskrivning från
Goodreads:
In 1918, the world seems on the verge of apocalypse. Americans roam the streets in gauze masks to ward off the deadly Spanish influenza, and the government ships young men to the front lines of a brutal war, creating an atmosphere of fear and confusion. Sixteen-year-old Mary Shelley Black watches as desperate mourners flock to séances and spirit photographers for comfort, but she herself has never believed in ghosts. During her bleakest moment, however, she's forced to rethink her entire way of looking at life and death, for her first love—a boy who died in battle—returns in spirit form. But what does he want from her?
Kommentarer:
Spöklik, fängslande och sjukt bra. Så skulle jag nog beskriva den här boken. Den har stått i bokhyllan nästa två år innan jag fick för mig att läsa den och nu i efterhand borde jag kanske läst den tidigare om jag hade vetat hur mycket jag tyckte om den!
Historien utspelar sig under år 1918 i San Diego, på andra sidan jordklotet härjar ett stort krig och på hemmaplan härjar en mycket dödlig sjukdom: Spanska sjukan. Detta är Mary Shelley Blacks vardag, hon har precis flyttat till San Diego för att bo med sin faster eftersom hennes pappa har blivit arresterad. I San Diego bodde även hennes barndomskompis Stephen innan han blev ivägskickad till fronten. Så det är här berättelsen börjar och jag kan inte säga mer än att jag fastnade direkt.
Jag tycker Winters har lyckats så fantastiskt bra med miljöerna och det är en sådan intressant grund till en historia att det är svårt att inte ryckas med. Man har kriget som härjar så långt borta men som påverkar alla i ens närhet. Lägg sedan till en livsfarlig influensa som smittas genom luften så finns det så mycket att bygga en historia kring. Och inte nog med det så finns det paranormala element i den här berättelsen som gör det extra intressant! Jag tokgillar allt! Men lite extra gillar jag tidsepoken boken utspelar sig i. Det är en sådan intressant tid och jag vill absolut läsa mer böcker som utspelar i denna eran. En annan favoritbok jag kommer tänka på är The Diviners som utspelar sig i ungefär samma tid.
Boken var betydligt obehagligare än vad jag hade trott och hela historien har en mystisk och spöklik aura omkring sig, inget jag hade något emot eftersom jag som älskar spöken och mystiska händelser! Utöver det så gillade jag verkligen våran huvudperson Mary Shelley och hennes faster Eva. Fantastiska karaktärer med starka personligheter och driv.
Enligt mig är detta en toppenbok och passa mig mycket väl. Om ni är som jag och fängslas av historiska romaner, mystisk, spöken och intressant karaktärer så borde ni absolut kolla upp denna boken. Själv ska jag klicka hem Winters andra bok The Cure of Dreaming så snart jag kan för jag vill absolut läsa mer av henne!
Betyg 9/10