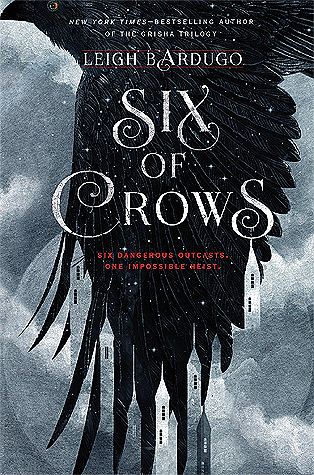 Titel: Six of Crows
Författare: Leigh Bargudo
Serie: Six of Crows #1
Språk:

Engelska
Antal sidor: 465
Utgiven: September 2015
Beskrivning från
Goodreads:
Ketterdam: a bustling hub of international trade where anything can be had for the right price—and no one knows that better than criminal prodigy Kaz Brekker. Kaz is offered a chance at a deadly heist that could make him rich beyond his wildest dreams. But he can't pull it off alone...
A convict with a thirst for revenge.
A sharpshooter who can't walk away from a wager.
A runaway with a privileged past.
A spy known as the Wraith.
A Heartrender using her magic to survive the slums.
A thief with a gift for unlikely escapes.
Kaz's crew are the only ones who might stand between the world and destruction—if they don't kill each other first.
Kommentarer:
F-A-N-T-A-S-T-I-S-K.
Så jäkla bra!
Jag förstår inte hur Bardugo kan fortsätta att leverera så bra böcker? Hennes Grisha-serie är en av mina absoluta favoriter men sen kommer hon med Six of Crows som ger en allt man vill ha och så mycket mer. Ruskigt imponerande. Livet var allmänt deppigt när jag hade läst ut Ruin & Rising men lyckan när man inser att hennes nya serie utspelar sig i samma värld! Underbart. Jag vet inte om jag vågar sticka ut hakan och säga att jag gillar denna serien mer när jag bara har läst en bok men det är inte långt borta.
Världen är samma, har man läst de tidigare böckerna känner man igen sig fast ändå inte. Det är samma magisystem, samma världskarta men en ny stad, nya underbara karaktärer och helt galna nya upptåg. Det är absolut inte tråkigt och det känns definitivt inte som samma serie eller en upprepning av de tidigare böckerna. Har jag förstått det rätt utspelar sig Six of Crows två år efter Ruin & Rising men det spelar egentligen inte så stor roll. Man kan läsa den här boken utan att har läst de tidigare. Men de är ju så jäkla bra så jag rekommenderar er absolut att läsa de tre först för att sen läsa denna.
En av det bästa sakerna med den är boken är att historien aldrig ta en paus! Den levererar från första till sista bladet. Berättelsen är i ständig utveckling och det händer saker no-stop. På riktigt! Och man kan aldrig gissa vad nästa drag är, jag älskar det. Ena sidan handlar det om personliga relationer, nästa ett bakhåll, sidan efter det är det en återblick för att sen gå över in en tvist som man aldrig skulle kunnat räkna ut. Fantastiskt!! Lägg sedan till att i princip alla karaktärer är så jäkla välskrivna och intressanta. Plus att de inbördes relationerna är en historia i sig. Ja sen är det tusen andra detaljer som gör Six of Crows till av böckerna du MÅSTE läsa i år. Alltså på allvar. Är du något intresserad av fantasy, äventyr och magi måste du plocka upp den. Jag älskar i alla fall den här boken och hoppas att du också kommer att göra det!
Betyg 10/10


Andra böcker i serien:
1. Six of Crows
2. Crooked Kingdom