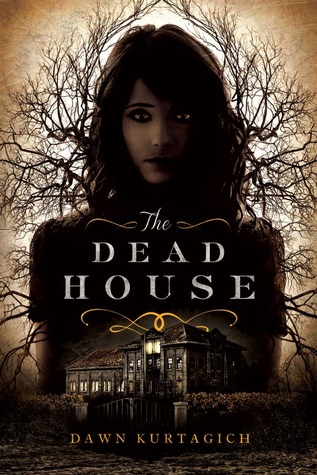 Titel: The Dead House
Författare: Dawn Kurtagich
Språk:

Engelska
Antal sidor: 400
Utgiven: September 2015

Beskrivning från
Goodreads:
Three students: dead.
Carly Johnson: vanished without a trace.
Two decades have passed since an inferno swept through Elmbridge High, claiming the lives of three teenagers and causing one student, Carly Johnson, to disappear. The main suspect: Kaitlyn, "the girl of nowhere."
Kaitlyn's diary, discovered in the ruins of Elmbridge High, reveals the thoughts of a disturbed mind. Its charred pages tell a sinister version of events that took place that tragic night, and the girl of nowhere is caught in the center of it all. But many claim Kaitlyn doesn't exist, and in a way, she doesn't - because she is the alter ego of Carly Johnson. Carly gets the day. Kaitlyn has the night. It's during the night that a mystery surrounding the Dead House unravels and a dark, twisted magic ruins the lives of each student that dares touch it.
Kommentarer:
Jag hade den här boken på min läslista men hade väl inga direkta planer på att köpa hem den på ett tag men sen fick jag syn på Petras hyllningar och då var tvungen att läsa den. Direkt. Sen köpte biblioteket in den och jag kunde låna hem den snabbt och smidigt. Älskar bibblan!
The Dead House var så mycket bättre än jag hade hoppats på. Det är en mycket speciell bok som gärna förvirrar en, vänder historien fram och tillbaka och som på ett mycket skickligt sätt fängslar läsaren och gör det mycket svårt att lägga ner boken. En av de bidragande faktorerna är layouten som är SÅ snygg. Utan att säga för mycket är boken upplagd så att man ta del av en utredning där man får läsa olika artiklar, klipp och en mycket speciell dagbok.. Det är riktigt snyggt gjort och gör verkligen att hela historien känns mycket verklig och då blir den genast betydligt obehagligare.
För den är obehaglig. Den spelar mycket på ohälsa, hjärnspöken och vad som är verkligt och inte. Vem vet? Som läsare vet man definitivt inte vad som är äkta och vad som är i personernas fantasi och det gör den här boken så bra! Jag älskar den och blev som sagt positiv överraskad över hur historien utvecklade sig. Den kryper sig på en när man läser och sakta men säkert börjar man själv undra. Är detta sant? Vad är verkligt? Sen kommer slutet och då bara...
..ja, ni får helt enkelt läsa den själva.
Thriller, psykologi, paranormal, mysterier - allt i en riktigt snygg layout.
Betyg 9/10