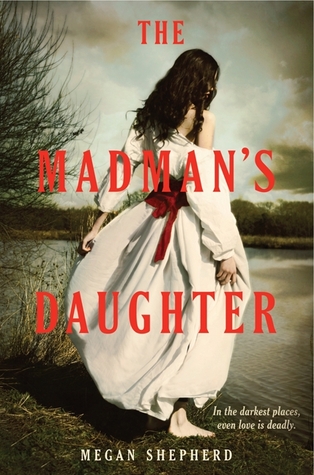 Titel: The Madmans Daughter
Författare: Megan Shepherd
Serie: The Madmans Daugther #1
Språk:

Engelska
Antal sidor: 490
Utgiven: Januari 2013
Beskrivning från
Goodreads:
Sixteen-year-old Juliet Moreau has built a life for herself in London—working as a maid, attending church on Sundays, and trying not to think about the scandal that ruined her life. After all, no one ever proved the rumors about her father's gruesome experiments. But when she learns he is alive and continuing his work on a remote tropical island, she is determined to find out if the accusations are true.

Accompanied by her father's handsome young assistant, Montgomery, and an enigmatic castaway, Edward—both of whom she is deeply drawn to—Juliet travels to the island, only to discover the depths of her father's madness: He has experimented on animals so that they resemble, speak, and behave as humans. And worse, one of the creatures has turned violent and is killing the island's inhabitants. Torn between horror and scientific curiosity, Juliet knows she must end her father's dangerous experiments and escape her jungle prison before it's too late. Yet as the island falls into chaos, she discovers the extent of her father's genius—and madness—in her own blood.
Kommentarer:
Den här låter verkligen som en bok som skulle kunna falla mig i smaken. Historisk, thriller, experiment och annat som låter obehagligt men jag är väldigt kluven. Jag gillar den men ändå inte, jag är tveksam till om jag kommer läsa de två andra böckerna i serien och jag har väldigt svårt att sätta fingret på flera av karaktärerna.
Till de delarna jag gillade: Miljöerna! Älskade tidsperioden och den härliga/kusliga stämningen som genomsyrade berättelsen. Jag är mycket svag för en historisk roman och den biten tycker jag Shepherd har lyckats mycket bra med. De flesta karaktärerna var riktigt intressanta och spännande. Juliet kan jag mycket väl tänka mig att läsa mer om, henne gillade jag. Även Montgomery hade sina stunder och jag tror att i de kommande böckerna kommer man få uppleva fler fängslande karaktärer och att de återkommande karaktärerna utvecklas och blir ännu mer komplexa och intressanta. Det är en sak jag ser fram emot. Men skälet till att jag är tveksam till att läsa vidare var alla extremt hemska och jobbiga experimentscener som utspelade sig i boken. Jag varnar er alla som är djurvänner - det är inte rolig läsning. Jag vet att det inte är verklighet men oj vad jobbigt att läsa. Det vill jag inte vara med om mer men jag har hört att det inte ska fler i de kommande två böckerna så det låter ju lovande.
Det lutar nog åt att jag kommer låna uppföljaren på biblioteket och ge den en chans. I grund och botten gillade jag historien, miljöerna och Juliet så det kan ju bli bra! Bara inga kalla-kårar-scener i laboratoriet tack!
Andra böcker i serien:
1. The Madmans Daughter
2.

Her Dark Curiosity


3. A Cold Legacy